Brown and Sharpe Tesa Horizontal Measuring Bench
Brown and Sharpe Tesa Horizontal Measuring Bench with floating measuring table – Oder No. 05939001
See below for details.
Call 866-9945-5742 or email: sales@willrich.com for pricing & more information.
Read More
Brown and Sharpe Tesa Horizontal Measuring Bench Features:
Internal and External Measuring with a Single Bench Micrometer
Adjustable Measuring Pressure (-4 to +4 Newtons).
4" Measuring Capacity.
0-2" Measuring Range.
Maximum Permissible Error = .00002".
Heidenhain ND281 display with linear error compensation and RS-232.
ISO 9001 to 9003 Qualified Measuring System.
Calibration of Standards
Cylindrical test pins.
Setting standards with cylindrical, plane-parallel measuring faces.
Threaded reference gages (measured using the 3-wire method).
Setting masters.
Setting rings.
Calibration of Gages
Limit plug gages.
Plug gages "GO.
Plug gages "NOT GO.
Plain plug gages.
Ring gages "GO.
Ring gages "NOT GO.
Threaded plug gages.
Horizontal measuring bench with floating measuring table (05939001) Complete with the following:
1 Floating measuring table.
1 Set of standard inserts (min. dia. .4 in / 10 mm).
1 Set of standard anvils.
1 Heidenhain ND 281 display unit.
Brown and Sharpe Tesa Horizontal Measuring Bench Technical Specifications: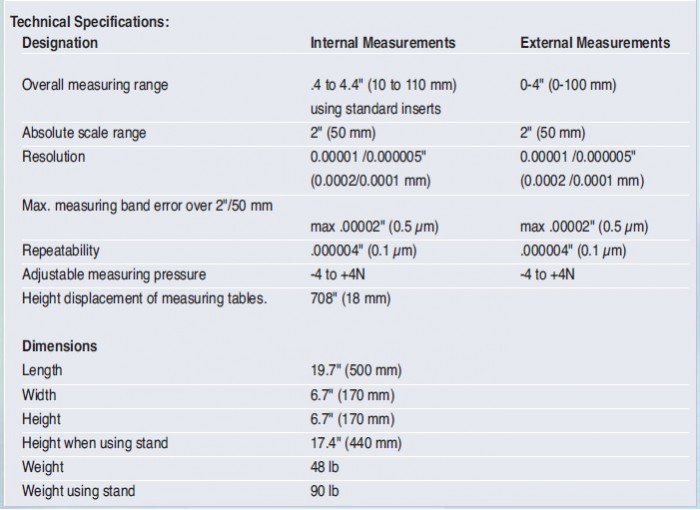 See Resources for more information.
Download the Brown and Sharpe Tesa Horizontal Measuring Bench product information using the link below:
---