3 Wire Thread Measuring System
The 3-Wire Thread Measuring System is the fastest and most accurate thread measurement system for a variety of measuring instruments.  The three-wire method is the most accurate method of measuring the effective or pitch diameter of an external screw thread.
Call or email sizes for pricing Ph 866-945-5742 / email: sales@willrich.com 
-or –
Fill out below Quick Quote Form for sizes needed.
Read More
3 Wire Thread Measuring System Applications:
 Certify set plug gages and working thread plug gages
 Monitor the wear on working thread plug gages
 Monitor and control pitch diameter variation during thread fabrication
 Use in conjunction with "GO and "NOT GO ring gages to control thread size to the most demanding specifications
 Determine out of roundness and taper that may exist in threaded parts
 Applications for preplating and postplating thread measurement
 Eliminate the cost and time involved in using outside calibration services
 Reduce measurement time to a fraction of the time normally taken using the traditional three-wire method
Thread measuring wire holders,micrometer stands and micrometers avaiable.
 THREAD MEASURING WIRES
These wires are the best sizes for standard 60° inch and metric threads. They may be used with other thread forms or with special pitches, constants for which may be calculated from the formula shown below. They are
made from selected high speed steel, are extremely accurate in roundness and straightness and are within.000020″ (20 millionths) of exact size.
The formula for determining wire constants for all 60° threads = 3W – .866025P. Where W = wire size and P = Pitch (1/T.P.I.) The most accurate and universally recognized method obtaining pitch diameter measurements of thread plug or setting plug gages is by means of using three hardened steel measuring wires laid into opposite sides of the thread, as shown in the diagram. Precise measurements with proper pressures over these wires minus the appropriate constant equals the measured pitch diameter.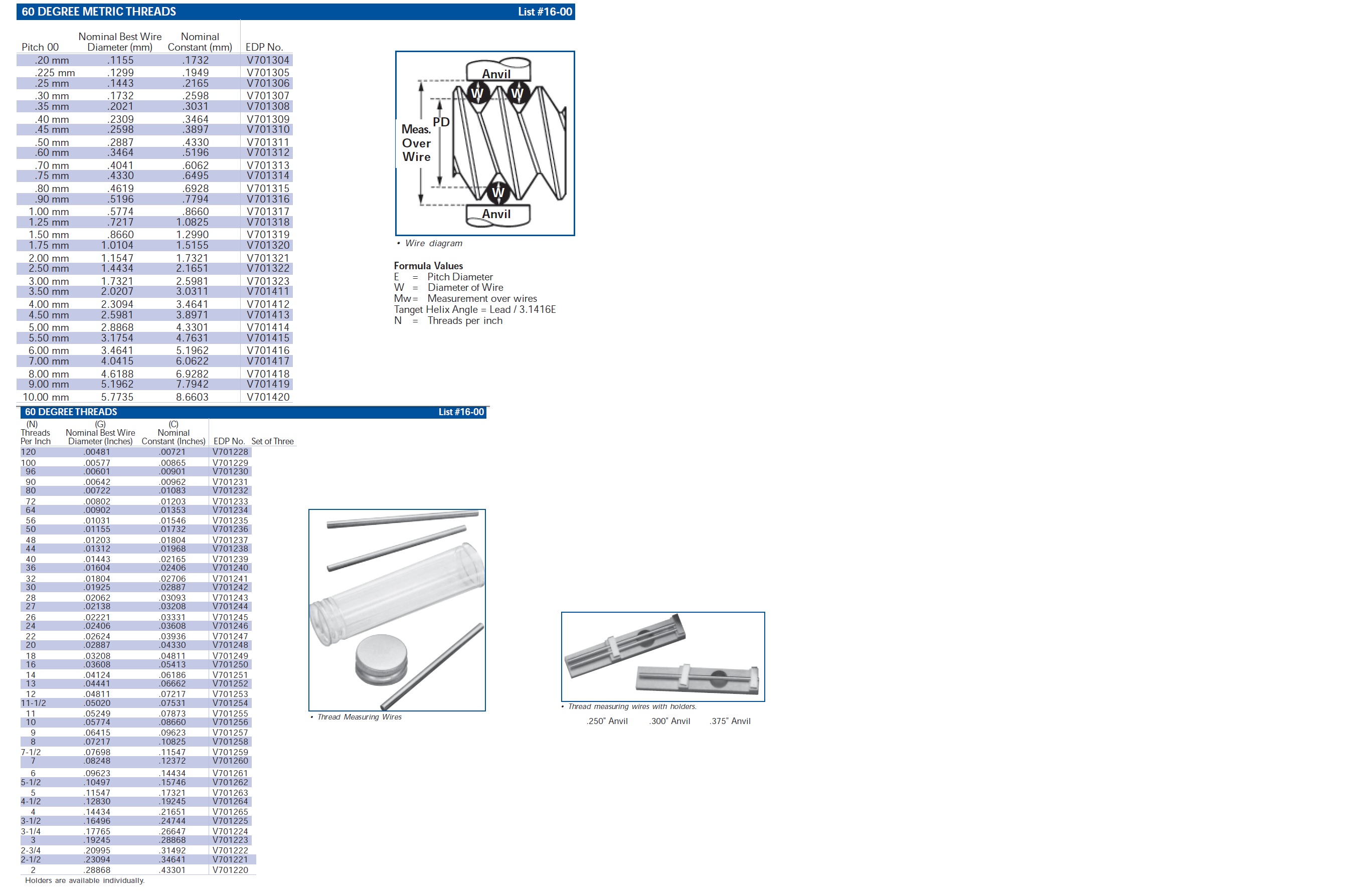 ---