Brown & Sharpe TESA MICRO-HITE +M Motorized Height Gage
Brown & Sharpe Tesa TESAMICRO-HITE+M Motorized Height Gages is available as: Micro-Hite-M14 base unit, Micro-Hite-M24 base unit, Micro-hite-M 36 base unit.
Instruments with patented rotary power control used for movements and for constant speed during measurements
4 YEAR WARRANTY
Read More
Brown & Sharpe TESA MICRO-HITE+M Motorized Height Gag Motorized Featuring advanced  capabilities and ease of use, this robust Brown and Sharpe height gage is at home on the shop floor or inspection laboratory. Willrich Precision is a direct, authorized Brown and Sharpe dealer!
Features:
Motorized Height Gage
Finally, easy 2D-measurement due to clear graphic visualization
adjustable hybrid multi-user panel (touch screen + keyboard)
Efficient determination of the culmination points with the LED control light
Easy data transfer to USB stick / printer / PC Generate a pdf measuring report directly from the program
Context-based help – intelligent user follow-up
Color and Touch Screen
Adjustable Panel
Constant triggeri force
Standard and advanced 1D& 2D measuring
Unique rotary measuring control for fast measurement
Air cushion
Available in three different sizes 365,615,920mm
Choice between 2 intuitive control panels
Tesa u system for unmatched reliability and simplicity •High precision through CAA (computer aided accuracy)
Coefficient of linear expansion matching that of steel (11.5 x 10-6 K-1)
RS-232 data output
calibration certificate included with every height gage
Download the Brown & Sharpe Tesa Micro-Hite+M  Motorized Height Gage using link below:
Click below to enlarge Brown & Sharpe Tesa Micro-Hite+M Motorized Height Gage Accessories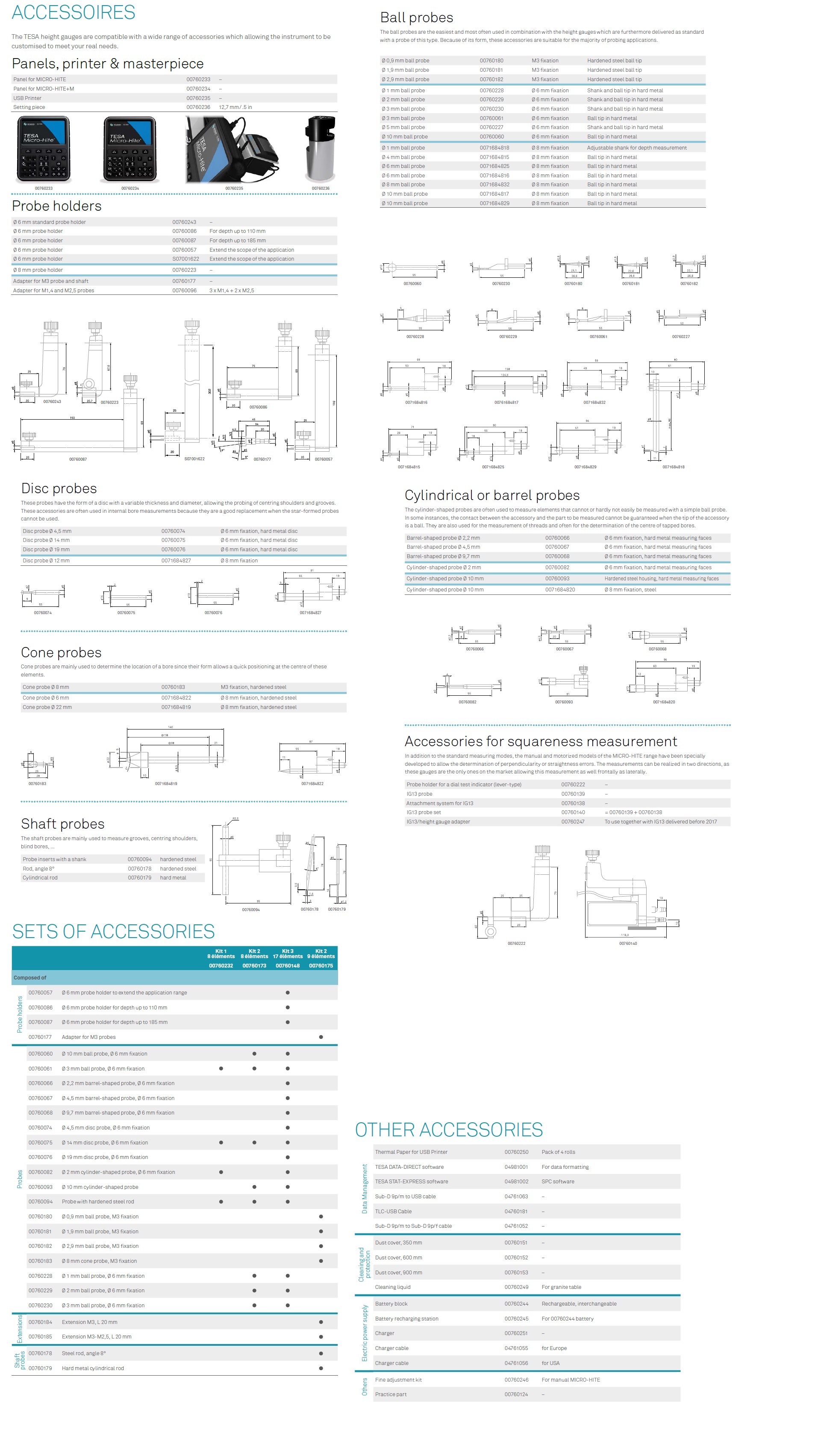 Brown and Sharpe height gage probbes page 1
---