Mark-10 Professional Force Gage Series 7
Series 7 professional digital force gages are designed with a number of sophisticated features for the most demanding tension and compression measurement applications, up to 500 lbF (2500 N). The gauges feature ±0.1% accuracy and a blazingly fast, industry-leading sampling rate of 14,000 Hz, producing reliable results for extremely quick-action tests.
3 Year Warranty
Read More
The Mark-10 Professional Force Gage Series 7 Features:
High-speed 14,000 Hz sampling rate
Continous data capture of up to 5,000 data points, at up to 14,000 Hz, downloadable to a PC
Individual data point memory for up to 5,000 data points, downloadable to a PC
USB, RS-232, Mitutoyo, and analog outputs
Sample break detection with auto functions, including stopping movement on the ESM301(L) test stand
1st / 2nd peak detection
Automatic output / data storage / zeroing upon various event completions
5 units of measurement, plus Coefficient of Friction, and user-defined unit with configurable name
Programmable footswitch command string
Programmable set points, with indicators and outputs
Averaging mode - calculates average readings over time
External trigger mode - for switch contact testing or remotely stopping display update
Password protection, configurable for individual keys and calibration
MESUR gage is a measuring and analysis program designed to expand the functionality of force and torque measuring instruments.
MESUR gage captures readings from any force or torque gauge with RS-232 output and displays data in tabular and graphical formats. Load data can be graphed versus time or distance, particularly useful for such applications as spring testing and tensile testing. The program includes a set of tools to analyze test results, including statistical calculations, quick data export to Microsoft Excel, customizable reports, pass/fail indicators, and many others. Test setups and sequences are customizable and can be saved and recalled. The user can program test start and stop conditions, including load, time, distance, and sample break.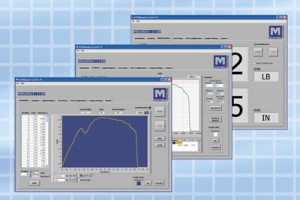 ---