Mitutoyo TM-505/1005 Toolmakers Measuring Microscope
The TM is a compact microscope well suited for measuring dimensions and angles of machined metals. It can also be used to check the shape of screws and gears by attaching an optional reticle. Its compact body makes it ideal for use on shop-floors with limited space.
2″ x 2″ and 4″ x 2″ Stage available.
Read More
Mitutoyo TM-505/510 Toolmakers Measuring Microscope Features:
The eyepiece section of the optical tube incorporates a vernier protractor. Angle measurement is performed easily by turning the protractor to align the cross-hair reticle with the workpiece image.
Complete selection of interchangeable reticles are available.
Both the transmitted and reflected illumination intensity can be adjusted to obtain the optimal illumination intensity for the workpiece.
Two XY stages with different travel ranges, 2" x 2" (50mm x 50mm) and 4" x 2" (100mm x 50mm), are available.
The TM-505B/TM1005B can output XY coordinate data if Digimatic Mic Heads (optional on 176-820A/821A) are used with it. Highly efficient two-dimensional data processing is available by connecting the Digimatic Mic Heads to an SPC data collection system.
Click below to enlarge Mitutoyo TM-505/1005 Toolmakers Measuring Microscope Technical Specifications: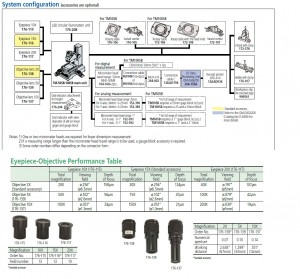 Download the Mitutoyo TM-505/1005 Toolmakers Measuring Microscope product information using the link below:
---