Starrett Digi-Chek II Long Range Height Master
Starrett Webber DIGI-CHEK™ II Height Master – No. DHG Series
Ranges up to 85″ and 2150mm. These are the world's fastest and most precise height masters, ideal for those who need the highest degree of accuracy over an extremely long vertical range.
Price With NVLAP Accredited Calibration
Note: DHG73 and DHG85 Require set up and can be priced accordingly.
See below for details.
Read More
Starrett Digi-Chek II Long Range Height Master Features:
Can be used in the laboratory or on the shop floor
Lower inspection cost by saving time – within 10 seconds the tool can be set into position
The gage block stack is free-standing, so it will adapt to temperature differences in a reasonable time period
1 or 25mm range of adjustment
Reverse reading block allows readings from the underside of the master gage blocks
The large, remote digital readout can be placed in the most convenient location and adjusted for best readability
The housing is heavy and extremely stable. It has hardened and lapped three-point bearings
Simple, two step operation in less than 10 seconds.
Set rapid positioner (A) to within .005(0.15mm) (3 seconds).
Final setting (5 seconds).
Includes commercial calibration and etched sn#
Set up charge extra.  Dependent on location.
Starrett Digi-Chek II Long Range Height Master Technical Specifications: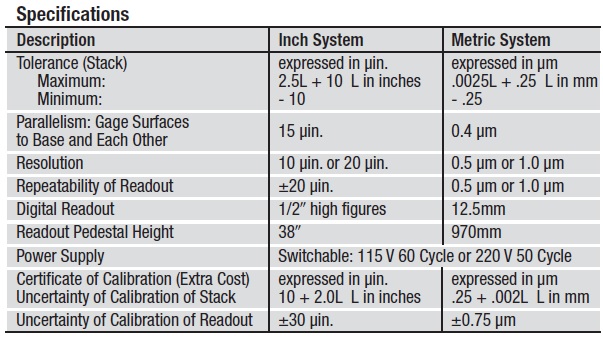 See Resources for more information.
---