Flexbar ReproRubber Metrology Casting Material Features:
Exotic Metrology-Grade Rubber – Self-Curing in Minutes
Virtually Perfect Replica Casting of Internal and External Forms
Non-Toxic – Easy To Use – 100 Times Faster Than RTV Silicones
No Release Agent is Ever Needed.
Excellent For Checking Parts With Optical Comparators!
Roll two equal-sized balls of catalyst putty and base putty and simply knead them together like dough. Excellent for external shapes. Simply spread over master pushing down with fingers and wait for cure 8-10 minutes. You have 3 or 4 minutes of manipulation time. Therefore 14 minutes start to finish. You can also cast internal shapes and cavities but some pressure should be applied such as a weighted object on top.
Quick Dispense Cartridge System Kits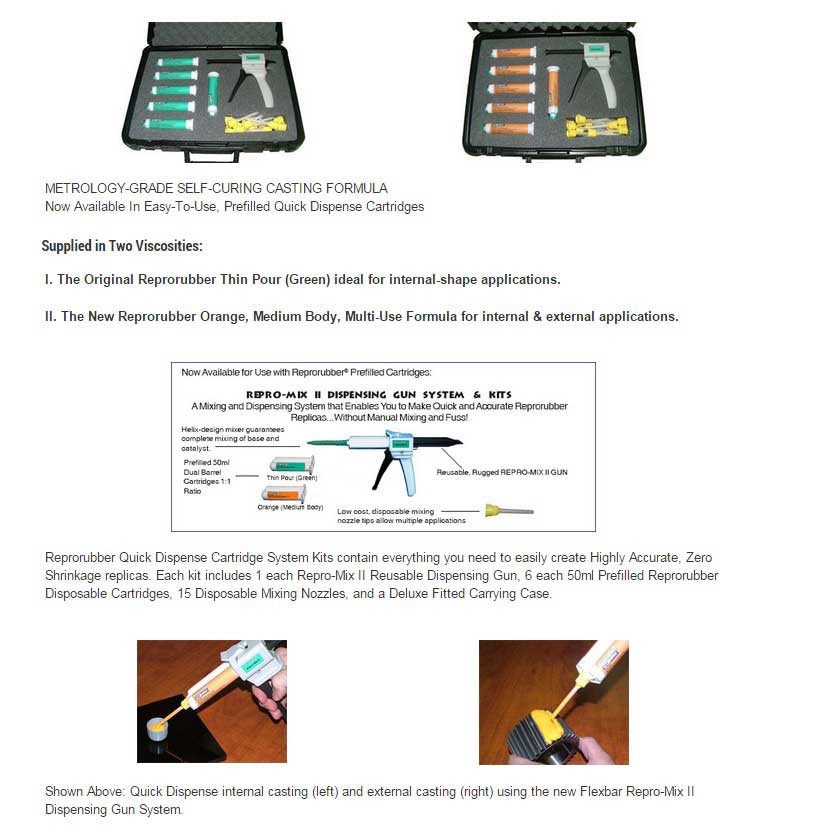 Available Options
| kit | Product Number |
| --- | --- |
| Other Kits | 16130 |
| Other Kits | 16131 |
| Standard Size Kits | 16137 |
| Quick Dispense Cartridge System Kits Complete | 16300 |
| Quick Dispense Cartridge System Kits Complete | 16305 |
| Quick Dispense Cartridge System Kits Complete | 16309 |
| Trial Size Kit | 16129 |
| Standard Size Kits | 16135 |
| Trial Size Kit | 16116 |