Mahr 130B Gage Block Comparators
Mahr Federal 130B-24 Gage Block comparator – The standard of the industry. Including
Model 130B-24 Gage Block Comparator
Model 130B-16 "Long Block" Comparator
See below for details.
Call 866-9945-5742 or email: [email protected] for more information.
Read More
Mahr 130B Gage Block Comparators Features:
Mahr 130B-24 Gage Block Comparator:
Mahr Federal's 130B-24 Gage Block Comparator is truly the preferred choice of all major calibration laboratories. It is specifically designed for the measurement of gage blocks by comparison, with no compromises made. The Model 130B-24 provides the ultimate in resolution and reproducibility for measurement of industry's most important dimensional standards.
Unique "Floating Measuring Frame" assures true point-to-point measurement.
Single sensor design for the lowest possible electronic noise.
Precise counterbalancing for control of measurement forces.
Resolution of 0.1 microinch/0.001 micrometer.
Repeatability of 0.2 microinches/0.005 micrometers (6s < 1 microinch/0.025 micrometer).
Measurement capacity from 0.010" through 4" (0.25 mm through 100 mm).
Integrated measurement software and user interface.
Built-in positioner for reproducible measurement locations.
Mahr  130B-16  "Long Block" Comparator:
Same highly linear, stable electronics as 130B-24.
Designed for measuring blocks above 4.000" (100 mm) but capable of checking shorter blocks as well.
Linear ball slide for smoothly moving long gage blocks without danger of tipping them over.
Large platen area for staging blocks before measurement - critical to achieving thermal equilibrium with the gage.
Fully counterbalanced "floating measurement frame" to isolate measurements from vibration.
Open frame design allows comparison measurement of large disks, up to 24" in diameter.
Can be operated from the same computer as 130B-24.
Scale on left-hand post allows rough positioning, and micrometer-style spindle allows smooth, easy mechanical fine-adjustment.
Mahr  130B Gage Block Comparators Technical Specifications:
130B-16: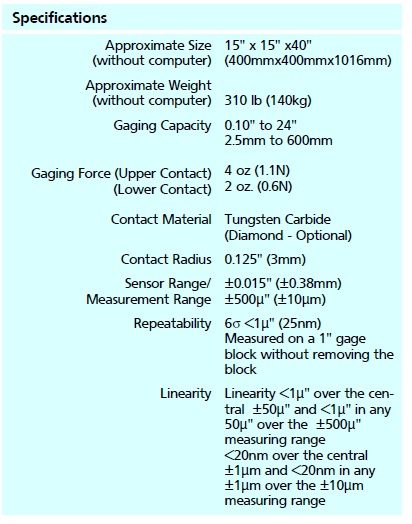 See Resources for more information.
Download the Mahr Federal 130B Gage Block Comparators product information using the link below:
---