Mahr 844 K Self Centering split ball bore gages
Mahr  Self-Centering Dial Bore Gages 844 K Intramess.  844 K Measuring heads hard chrome plated, expanding pin made of stainless steel
844 KH Measuring heads carbide tipped on both sides, carbide expanding pin. 844 KS Blind hole measuring heads hard chrome plated, expanding pin made of stainless steel
Please call 866-945-5742 or email: sales@willrich.com the sizes so we can quote the Mahr 844K  bore gages split ball type.
Read More
Mahr 844 K Self Centering split ball bore gages Features:
Measuring the diameter, roundness and conicity of bores
Spring-loaded halves of measuring probe are split via expanding pin with precision-lapped taper. This movement is transferred to indicating instrument
Maximum wear-resistance due to hard chrome plating. From 4 mm alternatively with carbide tipped available on request
Constant measuring force as a result of built-in spring thus eliminating user influence
Highly versatile, each gage covers a large range. Within the respective limits, quickly and easily adjustable to any size and any type of measuring application
Sets Include :
Measuring probe
holder
depth extensions
right-angle attachments
depth stops are part of an extensive modular system
Download the Mahr  844K Bore Gage product information using the link below:
Click below to enlarge the available Mahr Indicating units for Mahr  Bore Gage.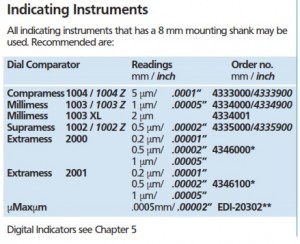 Click below to enlarge the available indicating units for Mahr 844K Dial Bore Gage: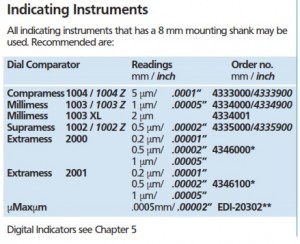 Download the specifications for the Mahr Federal 844K Self Centering Bore Gage by using the link below:
---