Mahr Universal Dimensionair Air Gage (
2098125

)

Mahr offers air gaging to satisfy both gaging requirements. The Universal Dimensionair is part of a new series of adjustable magnification air comparators from Mahr . Based on the precision of the standard Dimensionair, the new model offers the ability to work both as a single master or dual master air gaging system

Call 866-945-5742 or email: sales@willrich.com for pricing

Read More

Mahr Universal Dimensionair Air Gages Features:
Uses regular shop air (60 -150 psig)

Single or Dual master
Interchangeable dial faces (ranges)

Internal pressure regulators and differential meter assure ultimate stability over full operating range

Adjust span and zero setting to tune the gaging range to the interchangeable dial ranges.

 Interchangeable dials - dials provide an easy, inexpensive means to accommodate various ranges

High visibility meter has fine line graduations and a needle thin hand for clear, precise readings.

An air filter is included to remove dust and dirt contaminants from airline.

Tooling mounts to the front of the unit. Adaptors are available for virtually any tooling configuration.
Mahr Universal Air Gage Comparator ordering information: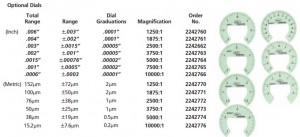 Download the Mahr Universal Dimensionair Air Gauging Comparator by using below link:
---