Mark-10 Digital Force/Torque Indicator Model 5i
The Mark-10 5i Advanced digital force / torque indicator is designed to work with a wide range of Mark-10 remote force and torque sensors. The 5i's averaging mode addresses the need to record the average load over time, while external trigger mode makes switch activation testing simple. The 5i includes MESURLite dataacquisition software.
3 Year Warranty
Read More
Mark-10 Digital Force/Torque Indicator Model 5i Features:
Interchangeable force and torque sensors through Plug & Test technology
Sensor password protection, for preventing use of an unauthorized sensor
High-speed 7,000 Hz sampling rate
USB, RS-232, Mitutoyo, and analog outputs
1,000-point data memory with statistics and outputs
Live load bar graph with set point markers
Programmable set points, with indicators and outputs
Peak readings and set points always displayed
Averaging mode - calculates average readings over time
External trigger mode - for switch contact testing or remotely stopping display update
Configurable audio alarms and key tones
Password protection of individual keys and calibration
The Mark-10 Digital Force/Torque Indicator Model 5i Included Items:
Carrying case
Universal voltage AC adapter
Battery
Quick-start guide
USB cable
Resource CD (USB driver, MESURTM Lite software, MESURTMgauge DEMO software, and user's guide)
Certificate of conformance
Download the Mark-10 Digital Force/Torque Indicator Model 5i product literature using the link below:
Mark-10 Force Torque Indicator Model 5i literature
Click below to enlarge Mark-10 Model 7i load sensors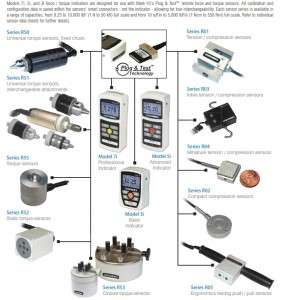 MESUR gage is a measuring and analysis program designed to expand the functionality of force and torque measuring instruments.
MESUR gage captures readings from any force or torque gauge with RS-232 output and displays data in tabular and graphical formats. Load data can be graphed versus time or distance, particularly useful for such applications as spring testing and tensile testing. The program includes a set of tools to analyze test results, including statistical calculations, quick data export to Microsoft Excel, customizable reports, pass/fail indicators, and many others. Test setups and sequences are customizable and can be saved and recalled. The user can program test start and stop conditions, including load, time, distance, and sample break.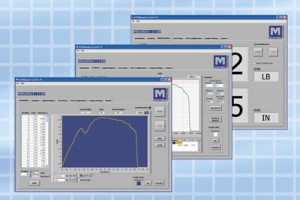 Download the Mark-10 force load sensors by using the links below
Mark 10 Series R01 Tension & Compression force sensor
Mark-10 R02 compression botton sensor
Mark-10 R03 Smart load cell Tension Compression
Mark-10 R04 Minitaure force sensor
---