Smart Spin Gage for Concentricity, Run Out and Perpindicularity
The NEW SMART SPIN Gage is designed to quickly measure cylindrical parts for outer diameter run-out, and part edge run-out (perpendicular to body diameter). To accommodate various size and style of parts, the device includes an adjustable backstop, overhead roll clamping, vertical and horizontal probe positioning. An integrated a STEPPER motor with specialized drive control hardware and software allows for precision
rotation and remote indicator RESET. These features allow for reliable results with proper setup for countless part shapes and sizes within a certain part size range. Two speeds are available for part testing: 10 and 20
RPM. we are able to offer an upgrade allowing for variable selection of the motor speed up to 40 rpm's
Read More
Operation:
CONTROLLER BOX
Drive Speed: Press ADJUST knob to toggle drive speed. (50 / 100 RPM)
Part Diameter: Rotate ADJUST knob to select part diameter. (6.25mm to 51.00mm)
Run Test Cycle: Press START to begin test cycle.
Indicator Zero Mode: Press & hold ADJUST knob for about 8 sec to toggle modes. (Auto/Man)
Jogging (Continuous wheel spin) Press & hold START button for about 3 seconds. Press START again to stop.
DIGITAL INDICATORS (Mitutoyo 543"302B)
Both indicators must be set in TIR mode. Press "PEAK button on face of indicator several times until TIR appears on indicator display and then press the blue "START button on the indicator face to begin TIR mode.
MEASUREMENT RANGE
Device is designed to hold cylindrical parts and dimensionally measure run"out on outer diameter and edge run"out. (Perpendicular to OD) Capacity: 6.25mm to 51.00mm diameter, 25mm to 150mm long
Click below to download the PDF
SmartSpin Operator Manual rev 10-12-2018
SMARTSPIN quickstart hand held
Click below to play video on the Smart Spin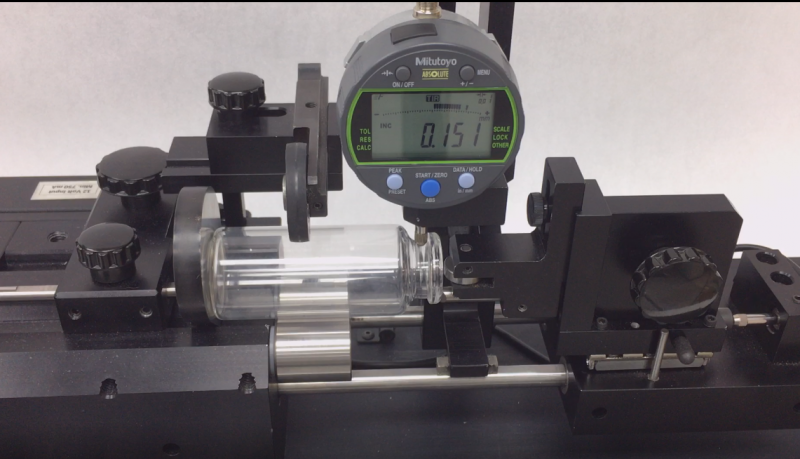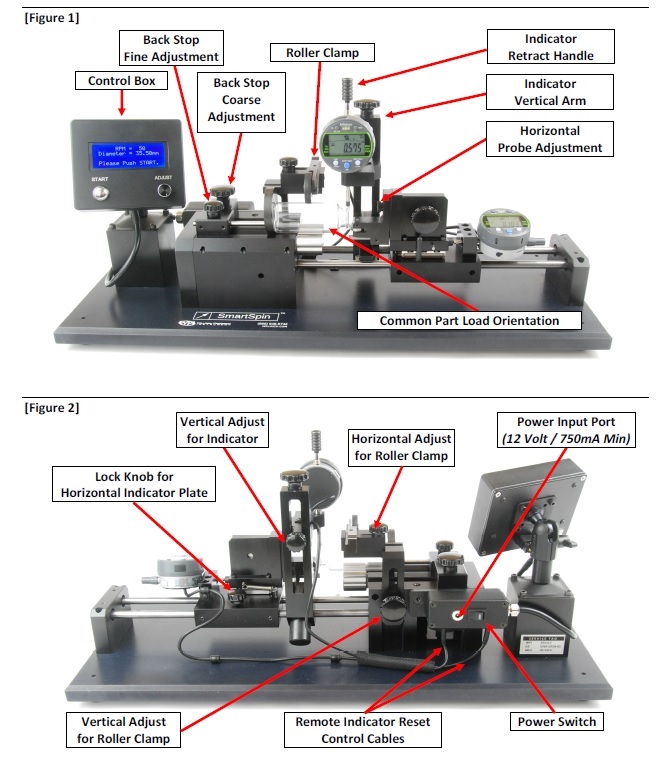 ---